No. 1987 Subscription (Program C)
Subscription Concerts 2022-2023Program C


No. 1987 Subscription (Program C)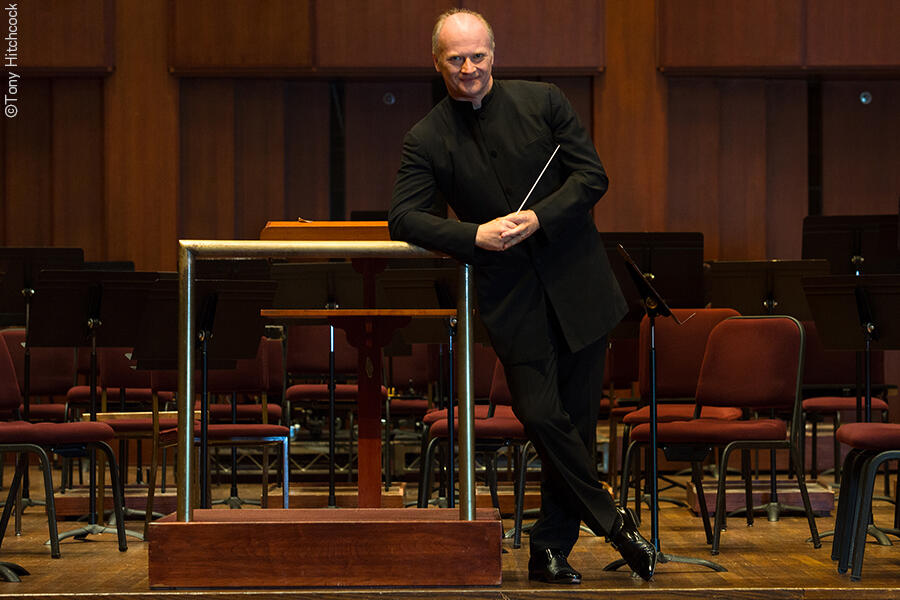 Shostakovich / Symphony No. 8 C Minor Op. 65
Shostakovich lived mostly as a Soviet citizen. On his native soil, especially during the era of Joseph Stalin from 1924 to 1953, the authorities utilized every art form as a vehicle for their propaganda. Many of artists who didn't meet the official Soviet style called "Socialist realism"were destined for purge, labor camp, torture or execution.
As for Shostakovich, the regime condemned his opera in 1936 so he rehabilitated himself writing the "exemplary" Fifth Symphony (1937). Four years later, his Seventh penned in the midst of the Great Patriotic War (Eastern Front) received worldwide recognition as a masterpiece prefiguring the triumph against the Nazism. He then set to work on the Eighth in the summer of 1943 immediately after the Red Army's victory at Stalingrad. However, contrary to the Party's expectation, it didn't turn out to be another patriotically exultant symphony with a triumphal finish. Enraged, the Party banned it from performance.
Like Beethoven's Fifth (Destiny), Shostakovich's Eighth begins in C minor and ends in C major, provided their conclusions are miles apart. The latter is cast unconventionally in five movements of which the last three are played without pause. Moreover, the anguished first movement in modified sonata form takes up approximately half of the whole symphony. At the beginning, low strings declare a dreadful three-note motif (C-B flat-C) which would play, in slightly different shapes, important roles in all other movements. After the next sarcastic scherzo movement, the machinelike third movement is shackled by a remorseless ostinato (persistently repeated phrase). The slow fourth movement in G-sharp minor, a passacaglia (continuous variation on a bass theme), is also haunted by a relentless repeat: tam-tam (gong) leads to the forceful statement of the theme followed by its eleven variations. The work attains C major at the opening of the finale in rondo sonata form where the inverted three-note motif (C–D–C) is the base of the idyllic main theme given by bassoon. The momentary optimism makes way for a most dispirited C-major close in symphonic history.
[Kumiko Nishi]


*This concert will have a duration of 60 to 80 minutes without an interval.

Conductor

Gianandrea Noseda
Italian conductor Gianandrea Noseda, born in Milan in 1964, is now serving as Music Director of the National Symphony Orchestra in Washington, D.C., sometimes dubbed the President's orchestra, and as General Music Director of the Opernhaus Zürich having taken over from Fabio Luisi, thus he is active in both orchestral concerts and operas. He has continuously served in positions such as Principal Guest Conductor of the Mariinsky Theatre, Principal Conductor of the Cadaqués Orchestra, Spain, the BBC Philharmonic, and Music Director of Teatro Regio Torino. With the BBC Philharmonic, he has released numerous notable CDs of works of Respighi, Casella and Dallapiccola, and a disc of works of Russian composers he recorded with the London Symphony Orchestra, where he serves as Principal Guest Conductor, has also won high artistic acclaim. He actively takes up rarely performed works, discovers subtleties hidden in the work and fully draws out poetic and dramatic sentiments from them to reflect in the performances. We can only take off our hats to such a remarkable skill.
Since his first appearance with the NHK Symphony Orchestra in 2005, he has gradually built up good relations with the orchestra though his frequent visits. The programs he will conduct on this visit include the Japan premiere of Casella's Symphonic Fragment from La donna serpente (The Serpent Lady), Symphony No.1, an ambitious work by Rakhmaninov whose 150th anniversary of birth falls on this year, and Shostakovich's Symphony No. 8 — a highly attractive line-up of a variety of works which is typical of this conductor. We have great expectations for the enthusiastic collaboration of Maestro Noseda and the NHK Symphony Orchestra.
Pre-concert Chamber Music Performance
Pre-concert Chamber Music Performance
Program:Shostakovich / 2 Pieces for String Quartet (I Elegy / II Polka)
Artists




Price
| | S | A | B | C | D | E |
| --- | --- | --- | --- | --- | --- | --- |
| Ordinary Ticket | 7,400 | 6,500 | 5,200 | 4,200 | 3,200 | 1,600 |
| Youth Ticket | 3,500 | 3,000 | 2,400 | 1,900 | 1,400 | 800 |
Seating chart Enlarge Print PDF
*tax included
*About Youth tickets (Available at N-Kyo Guide)
*Subscribers receive a 10% discount (Available at NHKSO WEB Ticket and N-Kyo Guide)
*For wheelchair-accessible seats, please refer to the N-Kyo Guide
Starting Dates of Ticket Sales
ANNUAL SUBSCRIPTION TICKETS Mon., July 18, 2022 11:00am
[For Subscribers: Thu., July 14, 2022 11:00am]
SEASONAL SUBSCRIPTION TICKETS (SPRING) Fri., Feb. 17, 2023 11:00am
[For Subscribers: Thu., Feb. 14, 2023 11:00am]
Youth Tickets
Youth Tickets are great options for those of 25 years old and younger
WEB Select 3 Plus
Choose three or more of your favorite concerts and get a discount on single tickets
*Only available at NHKSO WEB Ticket NHKSO WEB Ticket (Accesible from Japan only)
For further information and subscription application
N-Kyo Guide TEL:0570-02-9502
Other Ticket Agents

NHK-FM

No. 1987 Subscription (Program C)
Friday, Jun 16, 2023 7:30PM - 9:10PM
Program: Shostakovich / Symphony No. 8 C Minor Op. 65

Conductor:Gianandrea Noseda
Recorded:June 16, 2023 NHK Hall