Profile of the NHKSO
Profile of the NHK Symphony Orchestra, Tokyo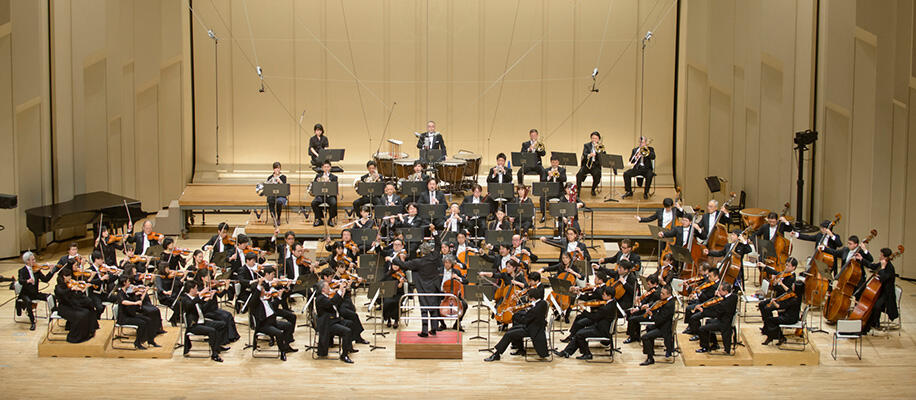 The NHK Symphony Orchestra was formed on October 5, 1926 under the name of the New Symphony Orchestra, and in 1951, it came under the financial support of the Japan Broadcasting Corporation (NHK) and was renamed the NHK Symphony Orchestra. During those years it established itself as the leading orchestra in Japan under the direction of Joseph Rosenstock who was invited from Germany as Chief Conductor. The subscription concert series, the main pillar of its performances, started on February 20, 1927, and has been maintained without any interruption even through the time of the Second World War. Since then, the orchestra has continually invited the world's most renowned conductors of the time, including Herbert von Karajan, Ernest Ansermet, Joseph Keilberth and Lovro von Matačić, Wolfgang Sawallisch and Lorin Maazel to name but a few, and worked with some of the world's most celebrated soloists to present innumerable outstanding performances which have deeply remained in the classical music history of Japan.
Annually the orchestra performs about 120 concerts across Japan including 54 subscription concerts, which are broadcast nationwide via NHK television and FM radio and some of which are introduced to the world through international broadcast services. It made its first appearance at the Salzburg Festival in August 2013, and in the spring of 2020, presented concerts in nine major European cities including Berlin and Vienna, earning high artistic acclaim for its performances and activities.
In recent years, the orchestra has been engaged in a variety of programs to inspire the next generation of musicians such as NHKSO Academy to foster future orchestra musicians and NHK Music Club for Children to teach children the joy of music through hands-on experience by visiting schools nationwide. At the closing ceremony of the Tokyo 2020 Olympic Games, it performed the Olympic Hymn, and Fly High (sung by milet), NHK's winter sports theme song, for the occasion of the Beijing Winter Olympics in February 2022.
Throughout the entire 2020-21 season, the orchestra faced an unprecedented situation to have to cancel its subscription series due to the COVID-19 pandemic, however, with the help from infectious disease experts as well as scientific evidence, it presented special concerts every month by applying every possible countermeasure against the infection. It resumed the subscription series in the 2021-22 season, delivering music to a public whose daily lives are still grossly restricted.
Conductors who are closely associated with the NHK Symphony Orchestra include Fabio Luisi (Chief Conductor to assume from September 2022), Charles Dutoit (Music Director Emeritus), Herbert Blomstedt (Honorary Conductor Laureate), Vladimir Ashkenazy (Conductor Laureate), Paavo Järvi (Honorary Conductor to assume from September 2022), Yuzo Toyama (Permanent Conductor) and Tadaaki Otaka (Permanent Conductor).